Skipper, Barbie's younger sister, was first introduced back in 1964, making her one of the longest-standing characters in the Barbie lineup. After a brief disappearance in the mid-2000s, Skipper once again has graced us with her presence -even if she has changed a little bit since her original release!
Skipper, as a sweet girl with a more childish figure, was originally developed to help restore Barbie's image, and make her appear less controversial. Skipper originally attended "Baker Elementary," and then "Central Junior High School," which tells us that she was originally designed to be of elementary school age and later on, middle school age.
I'm not really sure how the American school system works, but I assume it goes something like this:
Year 5 = 10 / 11 years old (elementary school)
Year 6 = 11 / 12 years old (middle school)
Year 7 = 12 / 13 years old (middle school)
Year 8 = 13 / 14 years old (middle school)
From this, we can work out that Skipper was originally designed to be around 10 or 11 years old, and then later, she was aged up to 11-14 years old.
In the year 2000, Mattel produced a playset where Barbie teaches Skipper to drive. Once again, I'm not 100% sure how things work in the United States, but I believe you can get a learners permit once you turn 14 in certain places. This suggests that Skipper, at this time, was designed to be 14 years old.
Today I will mostly be focusing on Skipper as a 'modern character' because frankly, I am really not the person to be talking about older Barbie history. It's something I struggle to research and I personally don't find very interesting.
However, if you are interested, check out this guide from another blogger here. This guide mostly focuses on Skipper dolls, and what we can learn about Skipper through the dolls (for example, we learn that Skipper was the most popular girl in school through the description on packaging, and we also learn about her friends and past relationships through the other dolls that were produced).
Skipper was a commonly reoccurring character for many decades, and was featured quite often alongside Barbie's friends. Fashions for Skipper were also featured in the 'Fashion Avenue' line. However, in the early 2000s, Skipper suddenly disapeared. I believe the last set produced was the 2003 'Barbie & Skipper Pyjama Tote Fun.'
In a statement regarding her disappearance, Mattel said that Skipper was at "boarding school." If you have read my Aquifolia High series, I mentioned that Skipper moved away to boarding school. Knowing that she actually did this is quite funny!
 I actually used to own this set! I remember distinctly placing this Skipper doll (on the right) down in my bedroom, when I was around thirteen years old, and then not being able to find it a few days later. Years later, I packed up all my possessions and left that room completely, so I know it's not hidden in a drawer somewhere.
Where is that lost Skipper doll? This is one of those things in life that really, really confuses me.
In 2010, Skipper was reintroduced along with the rest of Barbie's sisters. This is the point when the three girls were totally revamped -Chelsea's name changed from Kelly / Shelley to the Chelsea we know her as today, Stacie turned from a "shy and quiet girl" to a "sporty girl" and Skipper changed from blonde to brunette. She also changed from being a sweet girl to a more realistic teenager.
Here we have one of the first Skipper's introduced since her re-release in 2010.
From 2010 onwards, Skipper's personality really started being developed in books and on the offical Barbie website. We quickly learnt that Skipper enjoys technology, photography and music.
In 2011, we saw Skipper in her first film, along with her sisters Barbie, Chelsea and Stacie. What a treat! Here we can see that Skipper enjoys creating her own original music and is a talented singer. Here, Skipper was seen with brown hair with pink streaks. It is revealed here that one of Skipper's friends is Zoey.
In 2012, Skipper was a main character on the YouTube series Life in the Dreamhouse. Once again, she was depicted as a slightly-snarky, slightly-uninterested, loveable teenager. In this series, Skipper's love for all kinds of technological gadgets was highlighted even further.
In Life in the Dreamhouse, Skipper was seen with brown hair with a purple streak.
In the episode Sidewalk Showdown, we were introduced to Skipper's friend Allegra. This was the first time one of Skipper's modern-day friends was shown on-screen.
Examples of Skipper dolls from 2012 -Amusement Park Skipper (left), and Camping Fun Skipper (right). Note how both dolls are seen with her iconic pink / purple streak.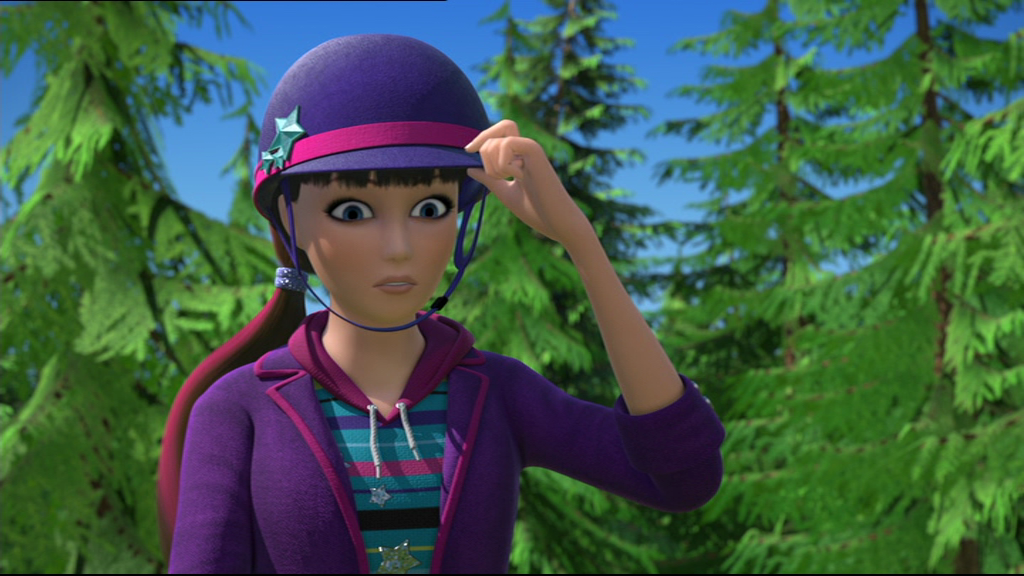 In 2013, we saw Skipper again in Barbie and Her Sisters in a Pony Tale. In this film, we  learnt that Skipper spent a lot of her childhood riding horses (perhaps a skill she picked up at boarding school!) and is an excellent rider.
Here, she was also shown once again with her purple streak.
Although the production of playline Skipper dolls and Life in the Dreamhouse continued for many years in-between, Skipper's next appearance in a film wasn't until 2015 with Barbie and Her Sisters in the Great Puppy Adventure. 
The animation used in this film was quite "soft," so Skipper's appearance changed once again. Notice the button noses and sweet faces in the image above, and then compare it with Skipper's appearance in Barbie and Her Sisters in a Pony Tale, where her features are a lot more defined.
We can also see that Skipper's hair changed from the coloured streak to a more natural ombre style.
Here are the accompanying dolls from that film. Notice how Skipper's iconic streak is missing, and the dolls look more "mature." Skipper appears to be wearing more makeup, especially on the second doll.
In 2016, we were gifted with Barbie and Her Sisters in a Puppy Chase. In this film, we discover that Skipper is not particularly adventurous and does not enjoy zip-lining across an unpopulated island in the middle of the nowhere -but then again, who would?
Skipper's face is still quite soft, and her hair is brown with a subtle blue streak.
In 2017, Skipper was once again shown with dark hair and her blue streak in the Barbie: Dolphin Magic Netflix special. In this film, Skipper's love for photography is re-established, and she is shown entering a photography competition. Her love for singing is also re-confirmed, as all four sisters sing together during the film.
In 2017 and 2018, Skipper was featured on Barbie's vlog many times. Here she is shown with her blue streak and dark hair. In the vlogs, Skipper and Barbie appear to be quite close. They sing together at Christmas time, and Skipper is featured in a range of videos.
In 2018, the new line Skipper Babysitters Inc. was released, and Skipper was given a selection of unnamed modern-day friends. This was mentioned in Barbie's vlogs as well.
In this line, Skipper has reverted back to her signature purple streak instead of the blue. Interestingly, her face appears to be more cartoonish and more smiley, in comparison to say, the doll from Barbie and Her Sisters in a Great Puppy Adventure. 
In the 2018 Dreamhouse Adventures series, Skipper is shown with her purple streak once again. We don't know anything (yet!) about how Skipper will be developed in this series, but personally, I hope we will move on from the 'sarcastic teen who really likes her phone and is a bit jealous of her older sister' and delve into something slightly deeper and more complicated.
And that is Skipper! Let me know if I have missed anything major (I know I skipped many of the dolls, it is difficult to know the years they were produced and there aren't many resources out there). It's a shame the old Barbie website was taken down, because there was some interesting images on the 'Barbie Sisters' part. I did screenshot them all, but I think I ended up losing the files somewhere.
Anyway! That was a long explanation. I'll see ya'll next time! xx
Further Reading
https://dollyconfessions.wordpress.com/2011/08/09/oh-mattel-whats-up-with-skipper/
https://barbielistholland.wordpress.com/2013/11/21/1964-2015-skipper-roberts-50-years/
http://barbiemovies.wikia.com/wiki/Skipper_Roberts
https://barbielistholland.wordpress.com/2015/04/18/the-big-changes-of-the-skipper-doll-was-her-size/