Let's face it -Barbie has a lot of friends. Like, a lot. 
"EEEEEE! My best old bestie is coming to stay with us!"
"How many BFFs do you have?"
Well said, Skipper, well said! Because things can sometimes get ~totes confusing~ I've prepared a list of Barbie's modern* friends with some history. If you spot something that's wrong, or something you'd like to add, let me know in the comments below.
*This means friends that have been produced in recent years -we're not talking about Francie, Steffie, PJ, etc.
Dolls In This List:
Teresa
Nikki
Grace
Summer
Midge
Kenzie
Taylor
Carrie
Tia
Courtney
Renee
Harper
Isla
The Barbie Room 2010, Barbie Magazine 1988 -California Dream. Available from https://www.flickr.com/photos/sezzalicious/5104487904 [10 January 2018]
Teresa (1988-2016)
Teresa first appeared in 1988 in the "California Dream' line, along with Christie, Ken, Barbie and Midge. Ironically, this picture doesn't show Teresa, but it's the best one I could find. Since then, Teresa has remained a staple in the core friend lineup as the "token brunette friend." (Although technically, she was blonde during the Fashion Fever era). In 2008, Teresa and Barbie's 20-year friendship was celebrated with the film Barbie and the Diamond Castle. 
Teresa is often cited as being from South America (her house is literally called "Casa De Teresa").
In 2010, with Barbie: A Fashion Fairytale (see above), Teresa's personality got a major overhaul. Instead of enjoying reading, playing guitar and other "nice" activities, Teresa's main interests were now conspiracy theories, finding the best yogurt in Malibu and generally being an airhead.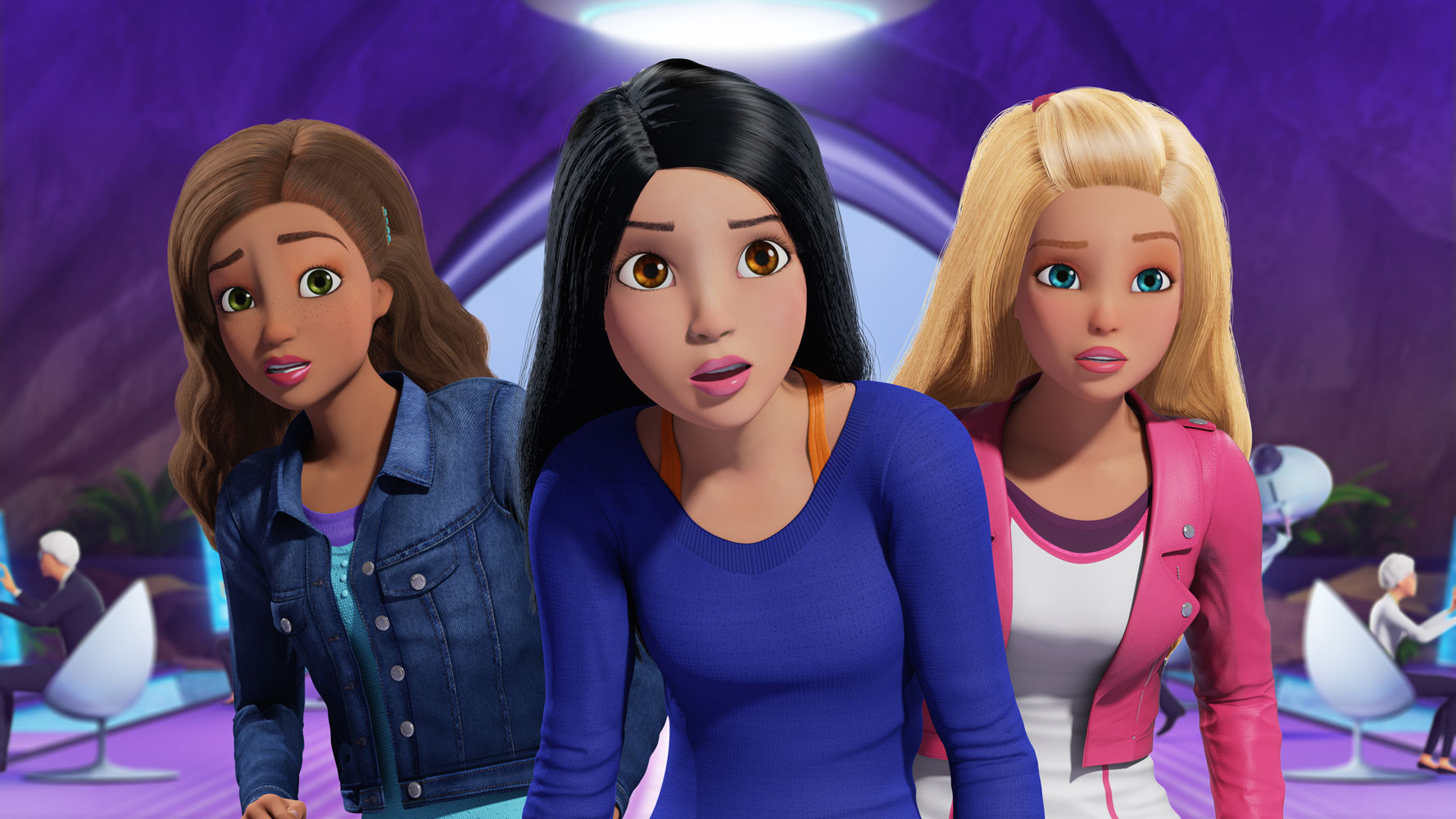 Teresa (left), with Renee and Barbie
On the plus side, in the 2012-2015 series Life in the Dreamhouse, we learn that Teresa is an aspiring fashion designer. She also featured in the Fashionistas lineup for many years. I believe that Teresa's final appearance was in 2016 with the film Barbie: Spy Squad (see above) and accompanying doll.
Nikki (1997-2015)
Wikipedia tells me that Nikki debuted in 2005 along with the 'Fashion Fever' gang, but I believe she actually debuted in 1997 as a friend for Skipper, and Mattel simply "aged her up" in 2005 so she could be friends with Barbie. It is commonly accepted that Christie is Nikki's older sister.
Like Teresa, Nikki has been a core member of Barbie's #girlgang for many years, and the three were often depicted together in illustrations and promotional material.
In 2012-2015 with Life in the Dreamhouse, Nikki got a much bigger role and we were able to learn more about her personality. We learnt that Nikki enjoys shopping, fashion magazines and is always up to date with the latest trends. In 2015, Nikki was part of the Barbie Style line, and was a core member of the Fashionistas for many years.
We haven't seen Nikki since then.
Barbiebeauties 2012, So in Style Part 11 -Grace and Courtney. Available from https://barbiebeauties.wordpress.com/2012/11/24/so-in-style-part-11-grace-and-courtney/ [10 January 2018]
Grace (2010-2015)
In 2010, Grace was introduced in Barbie: A Fashion Fairytale as one of Barbie's friends. She starred alongside Teresa. It was here we learnt that Grace is a cheerleader. Grace then moved to Chicago, where she was placed into the 'So In Style' line, which began in 2012. We learnt that Grace loves science and she is part of a mentoring program, where she looks after her "little sister" Courtney.
In 2015, Grace was seen twice in the Barbie Style line, and then again in Life in the Dreamhouse. In Life in the Dreamhouse, Grace and Barbie meet for the first time (which was very weird, considering they already were supposed to already know each other from Barbie: A Fashion Fairytale). Grace is depicted, again, as somebody who really likes science.
We haven't seen Grace since then.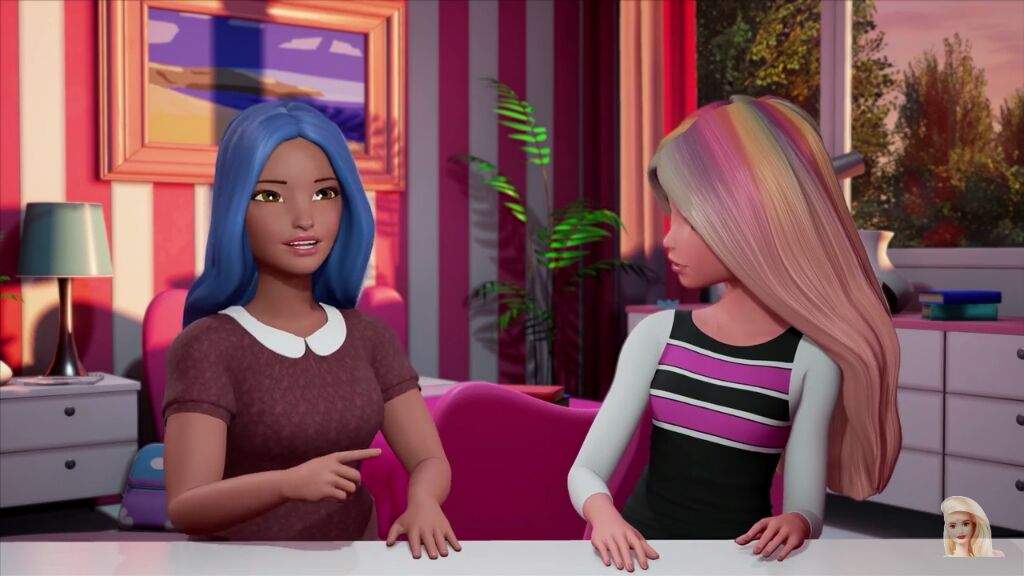 Harper (2016-2018)
In 2016, Mattel launched the first "The Doll Evolves" wave of Fashionistas. At that time, Harper was a faceless, nameless curvy doll with blue hair.
But alas! In 2016, Barbie released a vlog where she introduces the world to "Harper." Harper enjoys anime and wants to go to Japan. She is Barbie's first curvy friend to have a name, and has been featured in several vlogs since.
Teresa (left), Barbie and Renee (right).
Renee (2016)
Renee is a character in the 2016 film Barbie: Spy Squad. She is friends with Teresa and Barbie. She is a gymnast.
 Summer (2005-2015)
In 2005, Mattel introduced 'Summer Gordon' in the Cali Girl line. Her brother, Blaine, would eventually become Barbie's boyfriend. Originally, Summer had brown hair, but her hair quickly changed to blonde and has remained blonde for most of her dolly life. Summer was featured in promotional material for many years, and was also part of the Fashionistas lineup until 2015, when 'The Doll Evolves' was launched.
Summer has always been depicted as the token 'sporty friend,' but this was highlighted even more in Life in the Dreamhouse. Summer arrived Season 3, along with Midge, in the episode 'Endless Summer.' Summer appeared in 2013 and remained a core member until the end of the series in 2015.
Since then, I don't believe we have seen Summer.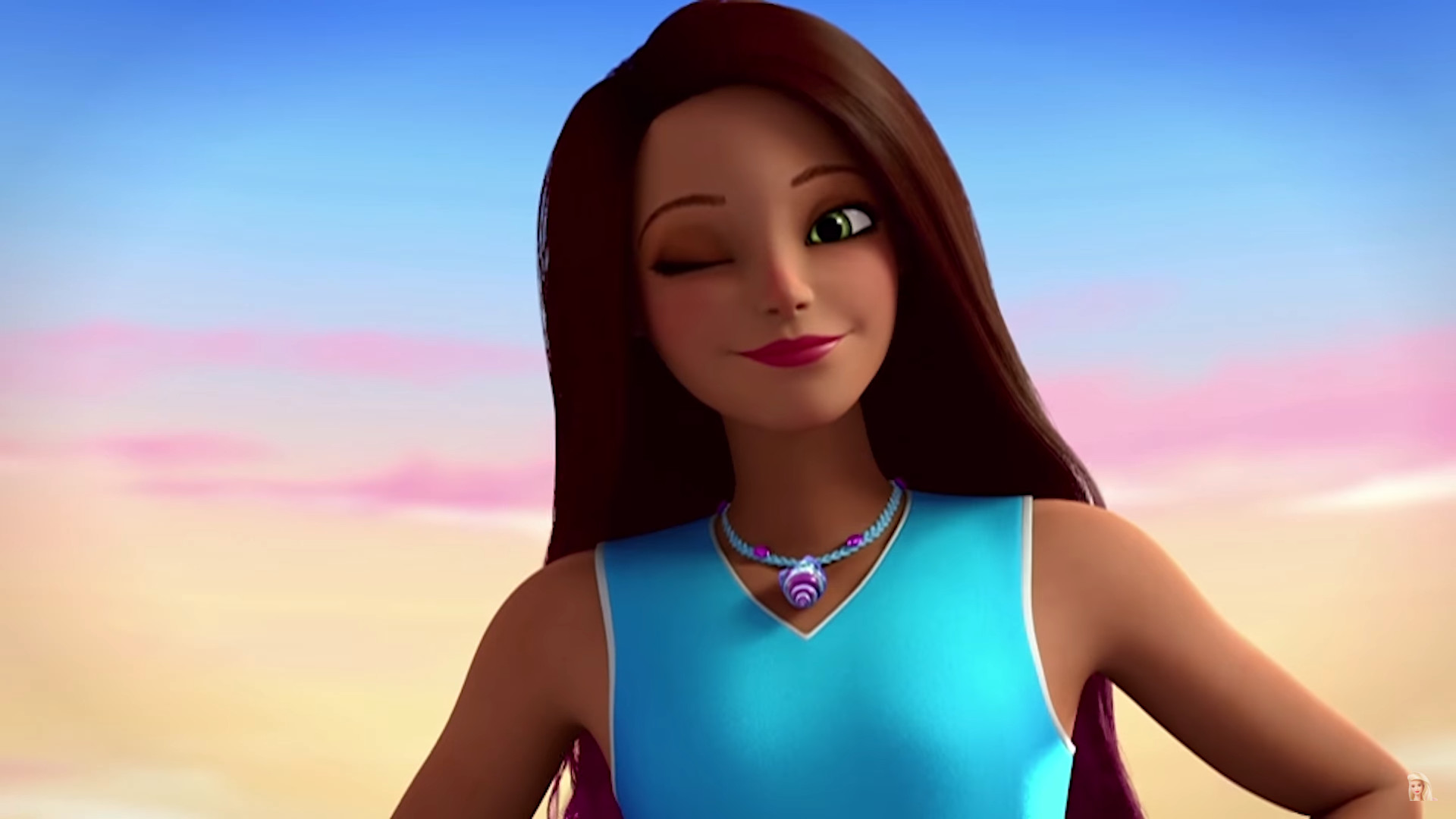 Isla (2017)
Isla, a mermaid who has the power to transform into a human, was featured in the 2017 Netflix special Barbie: Dolphin Magic. She was friends with Barbie for the duration of the film.
Mari 2012, Earring Magic Ken, Midge & Barbie 1992. Available from https://www.flickr.com/photos/dollhunter/7055137823 [10 January 2017]
Midge (1963-2015)
Hoo-boy, Midge Hadley's history is tricky. The charming freckled redhead first debuted in 1963 as "Barbie's best friend," right? But then they stopped making her. But then, in 1988, she returned! She got married to Alan! And then she went away again.
Titi Toys and Dolls 2017, Barbie Midge Visits Barbie and Ken in the Dreamhouse -Stories with Dolls – Titi Toys. Available from https://www.youtube.com/watch?v=2NFuxqvRvmU [10 January 2017]
In 2003, Midge came back! Whoo! Expect now she's not just married to Alan, she's gone off and had three children with him! And she's suddenly gotten much older, too. Midge and her family were known as the 'Happy Family' because they were really, really happy.
After the Happy Family line went away, guess who else went away? That's right, Midge left again. (However, in 2004-2008, the Wee 3 Friends spin-off line featured Lila, Midge's little sister)
But don't worry! In 2013, Midge returned to Life in the Dreamhouse along with Summer. Expect now, her husband was gone, her children were gone, and she had suddenly aged back down to 17. (I told you things were tricky!) In 2014, Midge also starred in the Barbie Style line.
In 2015, when Life in the Dreamhouse ended, Midge went back into hiding. But what did you expect?
Tia and Courtney (2006)
In 2006, Barbie's friends Tia (left) and Courtney (right) were introduced in the film The Barbie Diaries. The pair later made an appearance in the Fashion Fever lineup.
Tia has darker skin and hair, while Courtney has brown hair and light skin. Courtney plays the drums and Tia plays the keyboard in their band 'Charmz.' Out of the duo, Tia is more studious and campaigned to be class president, while Courtney is more creative.
Carrie and Taylor (2011)
In the 2011 film, Barbie: A Fairy Secret, we meet Barbie's friends and stylists, Carrie and Taylor. The fashion-obsessed pair are later revealed to be fairies who eventually leave Malibu to go live in Gloss Angeles.
There really aren't any differences between the two girls, and I always forget which one is which.
Kenzie (2003, 2016)
In 2003, Kenzie made her big debut in the Mystery Squad gang, and then disappeared, along with Shawnee and Drew. (Drew later appeared in the Fashion Fever lineup, expect her hair changed from brown to red).
However, in 2016, a new line of Fashionistas was introduced, and one particular, curly-haired doll was named Kenzie. This striking resemblance leads me to believe that they are the same character.
Other Notable Mentions…
Raquelle (click here to read about the history of Raquelle)
Kurt (from the Fashion Fever era)
Kayla (from the Fashion Fever era)
Lea (from the Fashion Fever era)
Ryan (from Fashionistas and Life in the Dreamhouse)
Kira (an older friend)
Madison, Nolee, Chelsea, River, Hudson, etc. (from MyScene)
Blaine (Summer's brother, Barbie's ex-boyfriend from the Cali Girl era)
Shawnee (from Mystery Squad)
Drew (from Fashion Fever and Mystery Squad)
Desiree (from Fashion Fever)
Christie (an older friend, Nikki's sister)
I might add more detailed information about these dolls as time goes on, but it's more difficult to find information about the older friends.
Do you think Barbie has too many friends, and they should just stick to the same core group? Or do you think it makes things more interesting?