I think Barbie houses are pretty cool – the tiny rooms means you get a lot of different settings but only have to take up a small space in your room, and they come with lots of cool features (like an elevator, hello!) But, one of the biggest problems is that they do tend to look a bit cheap and plastic!
Today I'll be sharing two videos that focus on dollhouse renovation! Now, I know this isn't a new topic and has been done lots of times before, and I also know there are lots of other (read: better) Barbie craft videos on YouTube -BUT, I wanted to share these videos in particular because they are quite short and easy to follow along!
These videos come from Buzzfeed's Nifty. You've probably heard of BuzzFeed due to some Very Problematic things they've done in the past (eg; firing whole teams of mostly LGBT staff and POC), but anyway, let's ignore all that for a moment and just focus on the house!
Important Note: One key thing to mention is that Buzzfeed Nifty is calling their house a 'Dreamhouse,' but actually it's not!
The house they are using is the 2016 townhouse, which is the smaller, "budget" version. It only has five rooms.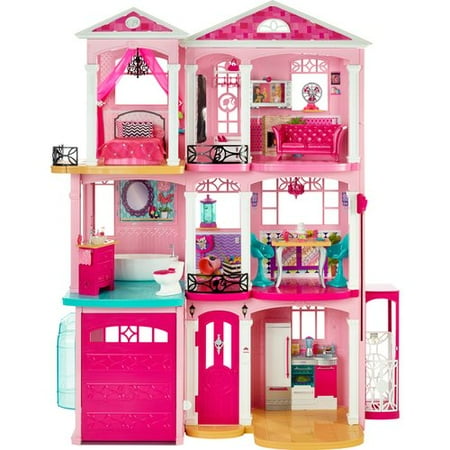 This is what the 2016 Dreamhouse actually looks like! It eight rooms, nine if you include the garage.
Anyway, here's the videos:
This one is all about the living room.
Here's what it looks like after! She used twine to make the rug and chair, wood to make the shelf, and wash tape to make the fireplace. The wallpaper is just contact paper.
The sofa is also really cool -it's just the plastic sofa wrapped in an old pillowcase, which is awesome if you want to DIY Barbie furniture but don't have any cardboard.
Here's the bedroom makeover.
Just your standard plastic room with sticker decorations…
…Becomes a modern bedroom! She put thin wood around the bed to make it larger, and then used real fabric for a bedspread. This definitely makes it look a lot better!
Key Takeaways:
Cover plastic furniture with fabric to make it look bigger and more realistic
Use contact paper to add realism to walls
Use washi tape to cover up plastic accessories, like the fireplace
Add in little decorations (like the mirror in the bedroom) to add realism
Stick to a neutral / soft colour palette (no more gaudy pink! It hurts the eyes!)
I've always planned on having a DIY dollhouse from a bookshelf (when I'm rich enough to afford someplace to put it!), but this has definitely made me realise that you can just use a pre-bought one and then customise it a bit!
It's a really good idea for people who don't have much space, or don't want to bother making everything from scratch.