I'm sure you were wondering: Has Holly fallen off the face of the Earth? Has she died? Or worse, been sucked up into the boring, adult world and now enjoys sitting down to watch a good home renovating show?
No, don't worry! I'm here. I'm alive! I still hate renovating shows! I'm just going through a weird ~transitional period~ at the moment. I'll save the details until the end of this post, so if you're just here for the Barbies, we can get straight onto that, and I'll blab about my personal life later.
So anyway! Today I thought I'd talk about my Realistic Barbie Wishlist. I'm talking, things that (hopefully) will be coming to the local shops VERY SOON and if I can find them, I actually plan on buying them!
But! Firstly! I wanted to share my big news, which I'm SUPER EXCITED for! Are you ready?
Drum roll, please!
My big news is… I get to have my OWN BARBIE ROOM very, very soon! If you've been following my blog for a while, you'll know that one of my "Big Life Goals" is to have a dedicated Barbie room and I can't believe that at freaking 22, I'll soon have achieved this! It's just crazy!!
Basically! My housemate is moving out and I will have a spare room in my apartment. I thought about getting a different housemate, because well, it helps to pay the bills. But then I realised – I don't actually like living with other people! They're messy! They leave hair dye all over the bathtub and don't know how to scrape off their plates and seemingly have never changed a bin before? Living with other people is annoying, ya'll. There's nothing worse than getting home from a long day and having to listen to somebody else complain about their day! Like, let me rest, please!
ANYWAY (remember when I said I'd get straight onto the Barbies? I'm getting there, I promise), I decided I'm not going to have another housemate. I'm going to make the spare room into a Barbie Room instead!
Here's what I'm planning:
-A desk! My Barbie Room will be kind of an office, too, because I always wanted to have an office, and it'll be nice to work with lots of Barbies around me.
-A spare bed! I don't know if it's just my group of friends, but a lot of my friends seem to end up homeless? I think it's because a lot of my friends work in the hospitality industry, which is notoriously unstable since COVID-19 came along. To make things worse, a lot of young people in Australia don't actually qualify for unemployment benefits, and there's no kind of stimulus check or anything. So it'd be nice to have someplace to offer them if they need. (And if they're creeped out by all the dolls staring at them? Too bad, shawty.)
-A bookshelf that I can turn into a diorama-haven. I want to have lots of sets ready to go! It'll be nice to make some "doll rooms" and stack them on top of each other, too.
-A display shelf! There's this white, ladder-style bookcase that I have been eyeing at Kmart that I think would be just PERFECT for displaying dolls.
-Green walls! One of my best friends told me I should do pink walls, since it is a Barbie Room, but I said NO, GREEN WALLS because my apartment is "Jungle Themed." (Is that weird? My old boss thought it was bizarre. But I like it!)
I will update you guys as I progress! I have a friend temporarily staying with me at the moment (see what I said earlier?), but when they move out, the transformation will begin!
Let's get onto the Realistic Barbie Wishlist!
The first is the Brooklyn doll from the new movie, Barbie: Big City, Big Dreams!
I have seen this doll in the shops a few times and I wasn't totally convinced, but then I saw the pictures on Barbie's Instagram and I was like WOW, I NEED HER! I really love her hair and those cute little freckles!
There's three kinds of Brooklyn dolls available – we have this one, pictured above, where she's wearing a colour-changing dress and sings. This is what I call "Premium Brooklyn." I think this doll is cool because she comes with this clear guitar, which is really awesome, but I'm worried that I won't be able to change her outfit due to the lights / colour changing feature.
Then there's an ordinary Brooklyn wearing a casual outfit; I call her "Budget Brooklyn."
Then the doll I want is who I call "Playset Brooklyn." She's wearing ordinary clothes and comes with a pink keyboard, plus a handful of other small accessories, like a headset and a water bottle. This is who I want!
Next up is the Barbie Extra Vanity Playset! At first, I didn't like her because I thought her smile was a little TOO big. But since then, I've seen her on Instagram a lot and she's definitely grown on me!
I haven't seen her available in the shops yet, but hopefully she will come soon! I have this idea of building a "Performing Arts School" where all the Extra girls can attend. I'm thinking it'll be a mix of "Rainbow High," where it's a colourful and modern school, put together with "Barbie Generation Girl," where each of the main characters has a different "thing." I'm thinking one Extra girl will be about singing, the other dancing, the other music, etc, etc.
Just look at that face! Doesn't she look like the most FUN character? Like someone who is always acting crazy and thinking of new schemes?
Speaking of the EXTRA girls, this baddie on the right has had my heart since the moment I saw her! Unfortunately she STILL isn't available in the shops near me but trust me, I've been checking almost every single day! (Luckily I live near a department store)
I mean seriously, WHAT A LOOK! I feel like she'd be the ditzy / loveable friend.
Next up on my list is this rainbow-haired gal in the middle! I actually saw her heaps of times and thought "nah" because of those DAMN EYEBROWS! Don't they make her look angry??? I'm really not a fan of bushy eyebrows on dolls. But then I thought "Oh, if I'm going to turn the whole Barbie Extra thing into a storyline and give the characters their own personalities and whatnot, it makes sense to have an evil doll!"
Soooo she's definitely going to be the "evil popular girl" character!
Okay, so this one I haven't 100% decided on, but I'm thinking about buying my first Barbie Dreamhouse! I haven't been sure whether to go for the 2020 model or the 2021 model, but I watched lots of reviews and I think I'm leaning towards the 2021 version!
Why? Well, my biggest reasons why I never bought a Barbie Dreamhouse before was:
1.) I never had enough space to have a full dollhouse, always set up (in the past my dollhouses were always tucked away in a wardrobe, or they were a combined bookshelf / diorama type of setup)
2.) I always lived with other people. I feel like okay, having my dolls set up is one thing, but having a dollhouse on display is kind of… next level weird? It's like going from "oh yeah, she keeps dolls on a shelf, that's a bit weird but fine, I guess" to "okay, she actually plays with her dolls and sets up scenes and they have their own lives and personalities… whoa, she's a bit too invested."
Do y'know what I mean? Like obviously I am just projecting here and nobody is actually going to say that. (Well, if they did say that, I would probably say "if you're going to be rude, you can get out of my house" and that'd be that.)
But now that those two problems are solved, it's kind of like – okay, I actually can buy a Dreamhouse now! I can have a permanent place for my dolls to live that looks cool and has heaps of rooms and is all ready to go!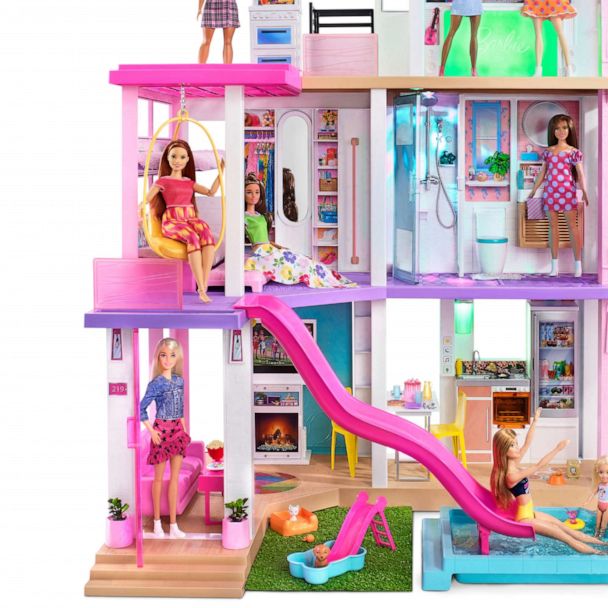 I really like the colour scheme of this house! It's definitely one of my favourites so far. Some things I like:
The little stairs to get to the front door! Cute!
The white kitchen! No more excessive pink, yay!
The way you can move the grassy area to the top balcony or by the door.
The bunk beds in the bedroom – I always wondered why there's no room for Barbie's sisters!
The little swing on the 1st floor is so cute. It reminds me of the Hannah Montana dollhouse.
You can change the "party room" to be anything, really, just by adding more furniture.
So that's everything on my list! Now that I've spent the whole night looking at all these products, it has honestly made me want them EVEN MORE (lol!). I might even go and buy them tomorrow, lol!
(Omg! I just remembered that I bought a new Barbie Fashionista! I took all the photos to make a blog post, but I forgot to write about it. So that'll be another post coming soon! I also have done half of a new photostory, but I haven't done the other half because I want to set the scene in a cafe, and that means I need to make a cafe playset, and that means I need to set up my printer, but I can't because my brand-new printer is BROKEN and I need to send it back to the damn factory to get it repaired, blah, blah, blah. I'm also in the process of writing a review on The Barbie Diaries (2006). More posts are coming, they're just works-in-progress.)
Another thing I wanted to share is Azusa Barbie's video with Refinery 21! I've followed Azusa on Instagram for a few years and I think she is just a fantastic human being, she's always so positive and lovely.
Okay, I think that's everything Barbie-related??? Now I will just quickly update ya'll on my life, because ya'll remember when I wrote that big essay, where I said how I lost my job and it made me really sad?
Basically – I got my job back! I couldn't be MORE overjoyed. I loved that job, man. A little too much, I know. More than normal-people love their jobs. I actually reported my old boss for making me leave to somebody higher-up (is that too much personal information to put on the Internet? I don't know. Well, here goes nothing, I guess) and then they were like "what the heck, that's illegal, I'm so sorry that happened to you, you're re-hired."
So that's great! I'm very happy! I'm in a different department which is FANTASTIC because a.) I don't have to see my old boss, who is probably not very happy with me for coming back to the company, and b.) it's a great opportunity to learn new things and challenge myself!
I am trying very hard to keep boundaries and not work too hard, because I know how easy it is to just work-work-work to go "above and beyond" and then burnout and be exhausted and then have my health and quality of work just roll downhill. It's a tricky balance, because obviously I want to impress my new boss and all my new coworkers, but I don't want to go back to my previous old habits where I just worked 1000 hours every week. I think I'm doing a good job so far!
So yeah, basically, that's what's been happening! This kind-of new / old job, coupled with my housemate moving out, and a lot of other things going on, it's definitely been a transitional time. But a good transition! There's lots of good things coming up soon, I can feel it!
PACE! ❤