The new Barbie Netflix film, Barbie: Princess Adventure releases on September 1st! (US only) This will be the 37th Barbie film. 
Are we excited?
I am not.
But nonetheless! Here I am! I'm going to be going over all the information available so far (20 August 2020) and commenting on everything with my own personal opinion; feel free to leave your own thoughts in the comments.
To read the previous instalments, click here and here.
As always, I will provide a full review once the film officially releases.
So! What new information do we have?
Well, we have a new promotional image! See below.
To be, I feel this image is a bit lazy. The right half is just the Dreamhouse Adventures promotional image! They could have changed it up a bit!
From this image, we can get a FIRST LOOK at the castle in the film. Yikes… Talk about tacky! This is one of the UGLIEST Barbie castles I have ever seen!
Let's compare it to some castles from previous Barbie films…
Barbie and the Magic of Pegasus (2005).
Barbie Fairytopia: Mariposa and the Fairy Princess (2013)
Barbie and the Secret Door (2014)
Now, this castle just looks tacky in comparison!
If Mattel could design such nice castles in 2014, 2013 and even 2005, what is stopping them from designing a nicer castle in 2020? Personally, I feel that this design is just obnoxious!
Moving on, we also have the full plot! Here it is:
ToyBook:
"Barbie Princess Adventure is a modern fairytale that follows Barbie and her friends on a class trip to the country of Floravia to meet Princess Amelia, who bears a striking resemblance to Barbie. Princess Amelia, nervous about becoming queen, is looking for an escape and devises a plan to switch places with Barbie, setting the stage for an adventure involving self-discovery, a rival prince, and a hefty dose of original pop songs."
IMBD:
"The adventure begins when Barbie and her friends travel to the country of Floravia to meet Princess Amelia, who looks a lot like Barbie. Princess Amelia is nervous about becoming queen, so she comes up with a plan to switch places with Barbie.
Their secret is safe until a rival prince discovers the truth. It's then up to Barbie and her friends to stop the prince and rescue the princess in time for her coronation. With the support of her friends, Barbie helps Princess Amelia discover the power in finding your own voice. Filled with lots of fun songs and new friends, this exciting musical celebration shows the best thing you can be is yourself."
From this information, we now know a little bit more about the film! I like the idea of the class trip -we haven't seen Barbie at school since 2006 with The Barbie Diaries. 
The rest of the plot seems pretty bland, though -it reminds me a bit of how Princess Annaliese goes missing in The Princess and the Pauper (2004) and Erica has to step in and pretend to be the princess in time for her wedding.
We also have the track lists! 
The songs featured in the film will be:
Try It On
Somewhere New
(Not) A Picture Perfect Girl
Life in Colour
King of the Kingdom
This is My Moment
My predictions are that "Try It On" will play when Barbie and Princess Amelia are trading places. They will sing this when they're trying on their new outfits or something like that. "Somewhere New" will play when they are pretending to be each other (it will probably be a montage, like "Perfect Day" was in the 2011 film Barbie: The Princess and the Popstar)
"(Not) A Picture Perfect Girl" will probably be a sad song when Princess Amelia is upset that she isn't like the other girls on social media. She might feel sad that she isn't making much of an impact as a princess, or that she doesn't feel good enough, or something else bland like that. "Life in Colour" will probably be a happy song – maybe another montage, when Barbie learns to be a princess or Amelia learns to be a "normal girl."
"King of the Kingdom" will probably be sung by the rival prince when he's threatening everyone's plans. It might be akin to Preminger's "How Can I Refuse?" (a.k.a. the best villain song ever created)
"This is My Moment" will probably be the final dance / happy ending song, like "What's Gonna Happen (Reprise)" in Barbie and the Secret Door (2014).
When the film releases, we'll see whether my predictions are accurate or not!
We also have the CD Cover for the songs! This is another image that we can gain some more information from.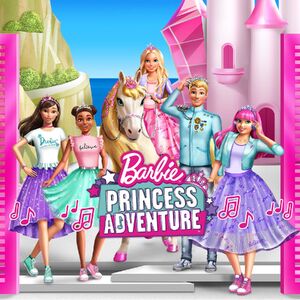 We have the main characters again! The prince! The tacky castle! We also have… a horse?
Hmm… Okay? Let's move on! Another new piece of information we have is the trailer! Finally!
There is a LOT going on in this trailer! Some things to note:
The film will be released on September 1st in the US only. So if you are an international Netflix user, you won't be able to watch it (However – if this situation is anything like Dolphin Magic was, the film will be available internationally after a few months)
The animation is the same as Barbie: Dreamhouse Adventures. Personally, I am not really happy about this! I don't like the animation style at all. However, it could be worse! The animation that was used in Barbie in the Pink Shoes (2013) is the Worst Barbie Animation On Earth™ , so at least it's not that.
Overall, this trailer hasn't really made me any more excited for the film. The recycled plot is a big problem for me and I don't like the animation style.
Interestingly, the comments have been turned off. Usually the comments are always on (this is the first time I have ever seen them turned off on a Barbie video). So it makes me think that a lot of people were complaining about how the plot is so similar to Barbie: The Princess and the Pauper. All the reception that I've heard has been very negative.
We also have the music video for "Try It On."
From this music video, we can see that the horse is apparently going to be pretty important? That horse had quite a lot of screen-time! We can also see that Skipper, Stacie and Chelsea will be in the movie as well – I am pretty surprised about this! I didn't expect them to be involved at all.
This music video reminds me of the "Gotta Get to Camp" scene from Rock n' Royals. Overall, the song itself is not bad, like I can handle listening to it, but I wouldn't say it's particularly good, either. I think the lyrics are quite nice and the overall message of the song is sweet, but it's nothing special.
Finally, we also have the music video for "This is My Moment."
Okay, finally! Something GOOD.
For me, I found this music video to be really, really nice! I liked it a lot. I enjoyed the song much better than "Try It On" and I thought it showcased a nice portion of the film; just enough to make you want to see the rest!
One thing I liked is that this film shows how Barbie and Princess Amelia look slightly different – ie; they're not just a "copy and paste" of the exact same character.
Overall, I am a little more excited for the film now that I have seen the "This is My Moment" music video, but my expectations are still low.