Hi everyone! Today I am back with another post in this "Barbie Social Media" series. Once again, I have another three fabulous accounts for you to check out! I have been following all these accounts myself for many years (since I first started getting into Barbie more seriously), and I think they definitely deserve to be featured!
If you haven't already, check out the previous version of this post here.
Oh man, if you were going to ask me "who is your biggest Barbie inspiration?" I would probably say Fashionisto2k on Flickr, who is seriously ~the best~ Barbie stylist / photographer / hairdresser to ever exist.
I mean, just look at this! His photos are always jaw dropping, I simply cannot imagine the work that goes into every single image.
Not to mention, Fashionsto2k also creates storylines to go along with the photos -think complicated plots with crime, drama and of course, stylish fashions!
If you've been in the Barbie world long enough, you have probably already seen a bunch of "The Most Popular Girls in School" memes and quotes. This is because The Most Popular Girls in School on YouTube has over 922 thousand subscribers, and is actually a "mainstream thing." (For example, I have overheard lots of conversations about this series irl, from random people who don't even like Barbie!)
The series is entered around a group of students at Overland Park High School and oh gosh, it's probably one of the funniest web series on YouTube. It doesn't seem particularly exciting at first, but as you go on, you soon realise that all the episodes are interwoven together to create a dramatic storyline.
While there are plenty of Barbie stop-motion videos for children, this one definitely fits into the "teen / adult Barbie stop motion" niche.
Warning: Lots of swearing and other inappropriate references! Again, not for children.
The series began in 2012, so the first season is a little low-budget, but I promise, the dialogue and storyline makes up for it! As you go further on, things get much more high-quality, with impressive outfits, set design, more voices and improved stop motion.
I would recommend starting from Season 5. 
On the other end of the spectrum, Everything Dolls is catered more towards a "family friendly" audience. Kelsey creates stop motion videos, thrift shop hauls, music videos, reviews, doll makeovers and more!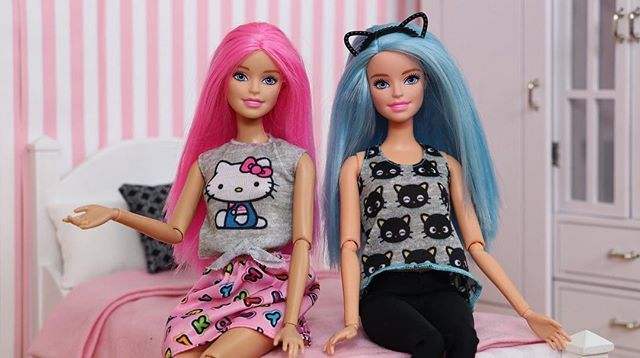 All of her content is extremely high quality, and I really recommend checking out her channel! While her stop-motion videos may be aimed more towards children, they are still a great way to pass the time as they are super entertaining.
My personal favourites are her 'doll makeover' videos. I wish I could reroot that well! Her sets are also really amazing, I am jealous 😛
What Barbie social media accounts do you recommend? Have you heard of any of these creators before?