In July 2017, I wrote a post where I boil washed and cleaned up my three horses. After I wrote that, I put the horses away and proceed to forget all about them. Until now! After watching Barbie and Her Sisters in a Pony Tale, I am in a bit of a 'horse mood,' so I decided to finally write a feature post on them.
Here is the before:
And here is the after:
If you would like to know how I achieved this, you can read the original post here.
Now, onto the feature post! The Barbie Walking Horse Tawny & Baby set was produced in 2008. You can watch the advertisement here https://www.youtube.com/watch?v=r-o1uzFTb7I
Since it has been ten (10!) years since this set was produced, obviously I have sold quite a lot of the pieces.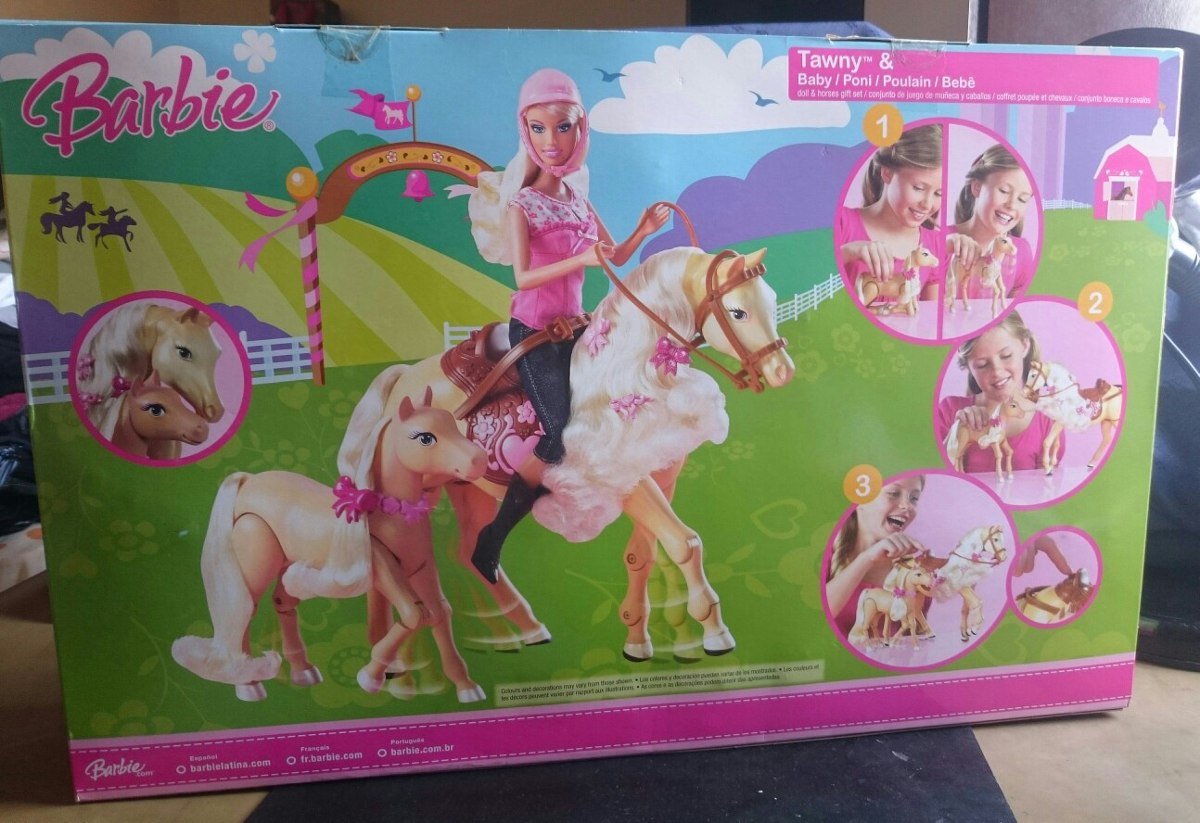 Here you can see what the set originally came with. I don't have the doll anymore, or any of the clothes. I probably have the hair clips somewhere, but I couldn't find them, so we will have to do without! It really was an ugly doll; her arms were bent on both sides, so she was always standing awkwardly.
Since I don't have the Barbie doll anymore, Princess Aimee will have to fill-in! Look at her cute outfit! She is wearing boots from my old Rock n Royals Rayna doll, and a dress from my 2017 School Fashion Pack. Aren't the little horses so cute?
Here is the little foal. I must admit, I haven't stored her in the best condition so her tail got a little ruffled up.
The foal's legs are articulated so she can sit down.
Look at her sweet face! There is a little garland of flowers around the horse's neck. Realistic? Not really, but cute all the same! The foal is also wearing pink and blue eyeshadow, because Barbie.
And here is the mother, Tawny. Tawny is featured in Life in the Dreamhouse and many other Barbie material, like books, magazines and other playsets.
I added the streak of nail polish to make her more original. The bridle and reins can be removed very easily.
The saddle and saddle blanket are stuck to the horse. I think the design on the saddle blanket is really cute! The pink adds a bit of interest.
See this little attachment here? You use it to connect the two horses together.
Like this! You can press the little flower button (behind the saddle) and the horses will walk together, if the batteries are new enough. Tawny can also walk on her own.
The batteries are stored underneath the horse.
Princess Aimee puts on her riding helmet. Safety first!
The playset came with a bunch of carrots. These are really helpful for cooking dioramas -it's not often that Mattel makes raw vegetables like this.
The bottle is for the foal.
This is the brush. It's a bit difficult to get Aimee's fingers in there, I think the original doll must have had a different hand shape.
The strip of plastic at the back acts as a seatbelt. When the horse walks by itself, it goes pretty fast and the doll would fall off without it!
Aimee loves horse-riding.
I keep thinking 'oh I should do a horse photostory soon,' but then I realise I don't actually know that much about horses! When I was writing this up, I actually had to google 'is there a difference between a foal and a pony?'
Spoiler: Yes, there is.
Overall, I really like my horses! I like Tawny's palomino coat, instead of the standard grey that is usually used for Barbie horses. I like how it comes with the saddle attached and I like how the bridle isn't bright pink! I also like all the accessories -I think they are realistic and helpful to tell the story.
I don't really have a use for the walking function so I'm honestly not even sure if it still works! But it's definitely a cute idea, if I was giving this to a child I'm sure they would have lots of fun with it.
What do you think? Do you have any doll horses?