Barbie and Her Sisters in a Pony Tale, released in 2013, is the second film starring Barbie and her sisters (although thankfully, there are no talking puppies this time!) It takes place in a Breath of the Wild-style riding academy in Switzerland, owned by Barbie's aunt Marlene. The luxurious riding academy, complete with stables and training grounds, is surrounded by wide, green plains in the mountains. In these mountains lives a mythical herd of horses called the Majestiques.
When Barbie and her sisters Skipper, Stacie and Chelsea, arrive to the riding academy for their summer holidays, they soon discover that the academy is in trouble! They have not won a competition in eleven years and enrolments are at an all-time low. If the Alpine Riding Academy does not win the Inter-Academy Equestrian Tournament, Barbie's aunt Marlene will be forced to sell.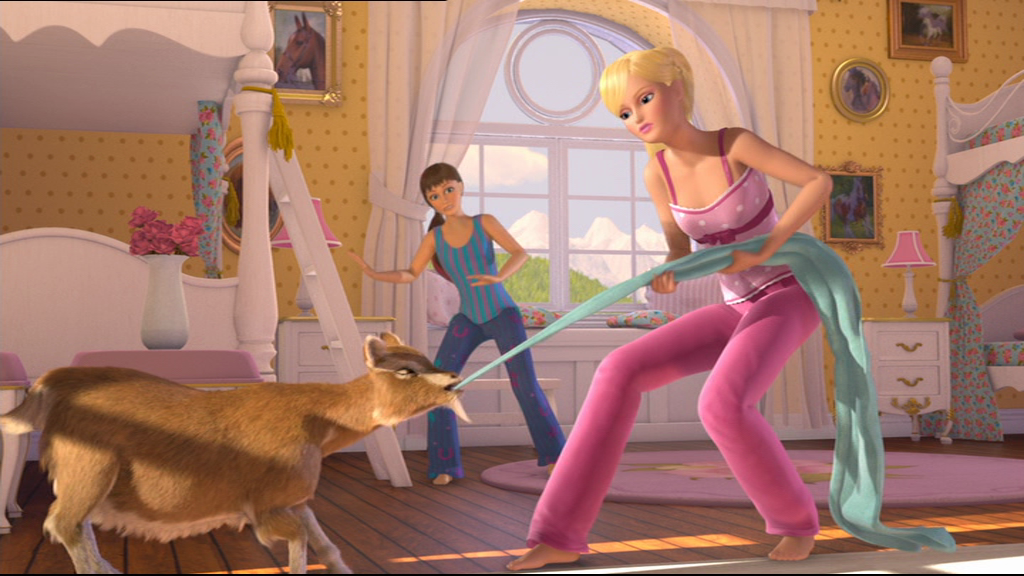 Our antagonist, Philippe Cheynet, from the neighbouring riding academy, is eager to call the Alpine Riding Academy his own. He knows that the secret Majestique horses are somewhere on Alpine land, and wants to exploit them for profit and his own personal gain.
Thankfully, Barbie and her sisters are here to save the day! Chelsea takes some time to bond with her small pony, Dash, but they eventually win first place in the "Pretty Pony" competition. Stacie also struggles to work with her horse -Pepper just won't listen! With a little help from Barbie, Stacie learns to build a connection with her horse and eventually goes on to win second place in the Cross Country race.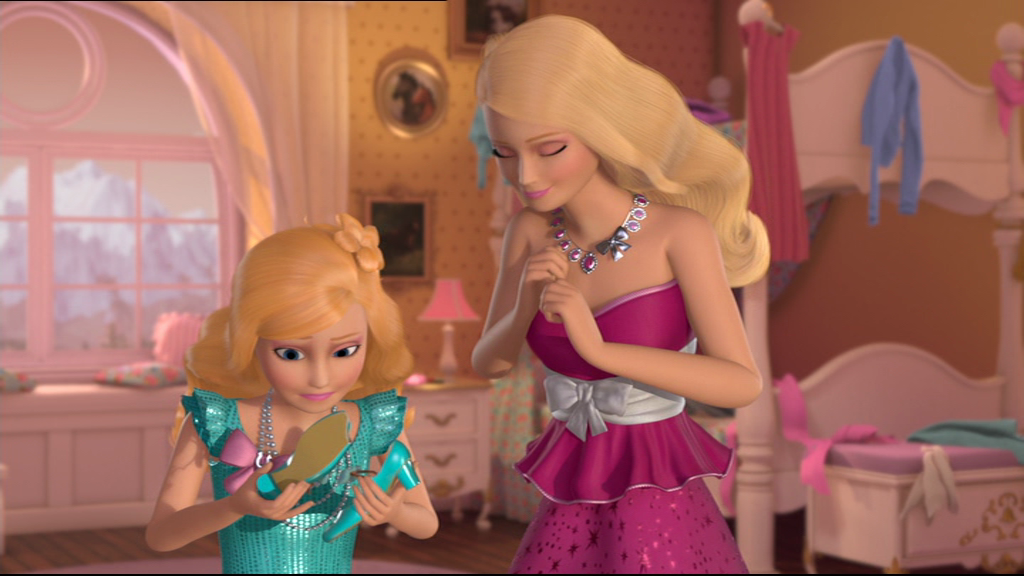 Despite being an experienced and talented rider, Skipper does not show any interest in horses at first. She's annoyed that she's not back in California at Tech Con with her friends. However, after making a bet with Jonas "Monkey Boy," from the nearby riding academy, Skipper goes on to win first place in dressage.
Meanwhile, Barbie spots a Majestique horse in the mountains, who saves her from a pack of angry wolves. Barbie names the horse Majesty and trains her to be a force to be reckoned with! Barbie and Majesty compete in the riding competition and win first place. Marlene's riding academy (and the herd of Majestique horses) are saved, the sisters go back to Malibu and all is well.
The motto of the film is "if you love something, set it free." This makes sense in the context of the story (Barbie plans to take Majesty back to California but ultimately decides against it because Majesty belongs in the wild), but I don't think this is a good "life message," just because it doesn't make sense in real, everyday life.
The film's theme song is "You're the One" by Heavynn Gates. This song is one of the better Barbie songs and I quite like it. Would I listen to it on repeat? Probably not.
The animation of the scenery is really well done, especially the mountains and the trees. The inside of the stables and the girl's bedroom is also really nice. I liked the design of the buildings, and the wolves looked really realistic. However, the characters themselves looked a bit like …giant potatoes. It's the faces, I think. They're too… round? I don't understand why they have such good, nice, ready-to-use models from previous Barbie movies, yet they choose to make the characters look like this.
I felt that the inclusion of the dance party was a bit sudden -why wasn't it mentioned earlier in the film? Skipper could have said something like "I'm so excited for the party later" or something like that.
Other than the sudden party scene and the animation of the characters themselves, I can't really find a fault with this film. The dogs were a bit annoying and I felt they weren't really necessary, but at least they didn't talk! I'm glad the horses didn't talk, either.
I felt the plot was well spaced out, and I thought it was clever how Philipe released the horses to try to stop the Alpine from winning the competition.
In many Barbie films where the characters are well-known and already established, there is little to no character development, however I was pleasantly surprised with Barbie and Her Sisters in a Pony Tale. I thought it was interesting how Chelsea, Stacie and Skipper all dealt with their own individual problems alongside the main plot.
I felt that despite being the main character, Barbie did not go through as much character development. At the beginning of the film, she wants to find a champion horse to take back to Malibu. She wants to take Majesty but eventually "sets her free." Not much going on, huh? I think this could have been improved by highlighting Barbie's desire to find her champion horse.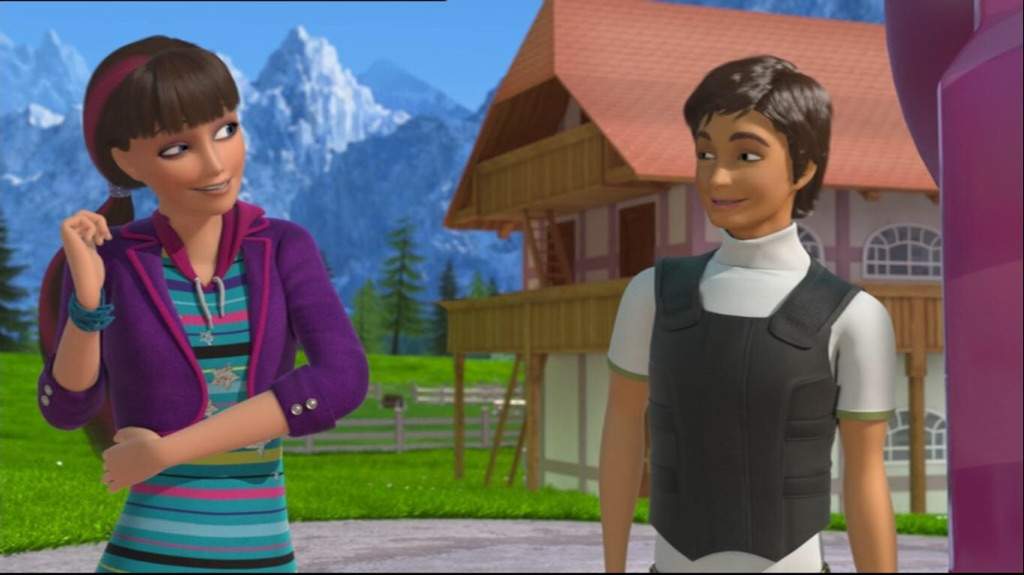 Overall, I really enjoyed this film. I really liked horses as a kid and I was always reading books about them. I remember seeing a horse up-close for the first time, when I was around thirteen, and that was a really amazing experience for me. Seeing this film brings back a lot of those memories, and it makes me want to watch more horse films!
The film runs for 70 minutes, which I think is the perfect time -there's enough complicated storyline to make the film interesting, but it's not so long that you get bored. If you don't mind a bit of potato face, this film isn't bad and I recommend you give it a try!