Okay, so remember when I checked Netflix and absolutely could not find Barbie: Dolphin Magic there? Yeah, well, it's there now. (But I still don't understand why they won't release it on DVD for people who can't buy Netflix…)
Warning: This Review Contains MAJOR Spoilers!! 
Anyway, the film starts with Isla, a mermaid, and her Gemstone dolphin friends, Ruby, Emerald, Amethyst and Topaz, swimming along in a beautiful ocean. The youngest of the dolphins, Emerald, gets caught in a fishing net and is transferred to a marine reserve / lab / thing.
We are then introduced to Barbie and her sisters, Skipper, Stacie and Chelsea, who are staying on the nearby island resort. Skipper, as always, is more concerned with taking pictures than exploring the beach, Chelsea is #TotallyObsessed with finding some mermaids and Stacie is recovering from a broken foot, which means she cannot enjoy her usual aquatic activities.
Ken is also on the island, working at his internship for a marine biologist named Marlo. Ken, Barbie, Skipper, Stacie and Chelsea find Emerald at the reserve. Barbie notices that Emerald doesn't look very happy, and tries to set Emerald free.
Barbie is quickly discovered by Marlo, Ken's boss. She is angry at Barbie and Ken, and understandably so, since random strangers shouldn't go around freeing dolphins from random marine reserves. Marlo says the dolphin was caught in a fishing net and needs to be looked over by a vet.
After Marlo has left, Isla transforms into a human using her magical necklace and tries to free Emerald. Barbie tells her off, and explains that the dolphin needs to be looked at by a VET (which, if you ask me, makes her a bit of a hypocrite because she tried to do the same thing exactly 0.2 seconds ago)
Despite this, Barbie and Isla become fast friends and they spend the day together which ends in a sleepover in Barbie's cabin. Isla isn't used to the human world around her, and struggles with walking, slang, beds, toothbrushes and bread, among other things.
The next day, Barbie and Isla are out swimming when they are visited by the other Gemstone dolphins; Ruby, Emerald and Amethyst. One of the dolphins accidentally knocks off Isla's necklace, and she transforms into a mermaid. Barbie is shocked, but promises to keep her secret.
Now -this is where the drama really begins. Marlo's buddy Hugo arrives with a helicopter to take Emerald the Gemstone Dolphin to "the mainland," which I assume is Hawaii. I won't spoil this too much for you, but it's really dramatic (and really interesting!)
Although the main plot focuses on saving Emerald and the other Gemstone Dolphins (I mean, it is only 60 minutes after all), the film also focuses on Ken, who struggles between believing Barbie, his girlfriend "close friend" and believing Marlo, his boss. The conflict also places strain on Isla and Barbie's friendship -it appears that Isla has had some trouble with humans before as Barbie is quick to lose her trust and companionship.
As expected, the day is saved due to Barbie's quick-thinking and the importance of teamwork. Isla stresses her gratitude towards Barbie and apologises to her for making her keep such a big secret -especially from her sisters, who Barbie shares everything with. Isla then reveals herself as a mermaid, much to the delight of Ken, Skipper, Stacie and most of all, mermaid-obsessed Chelsea.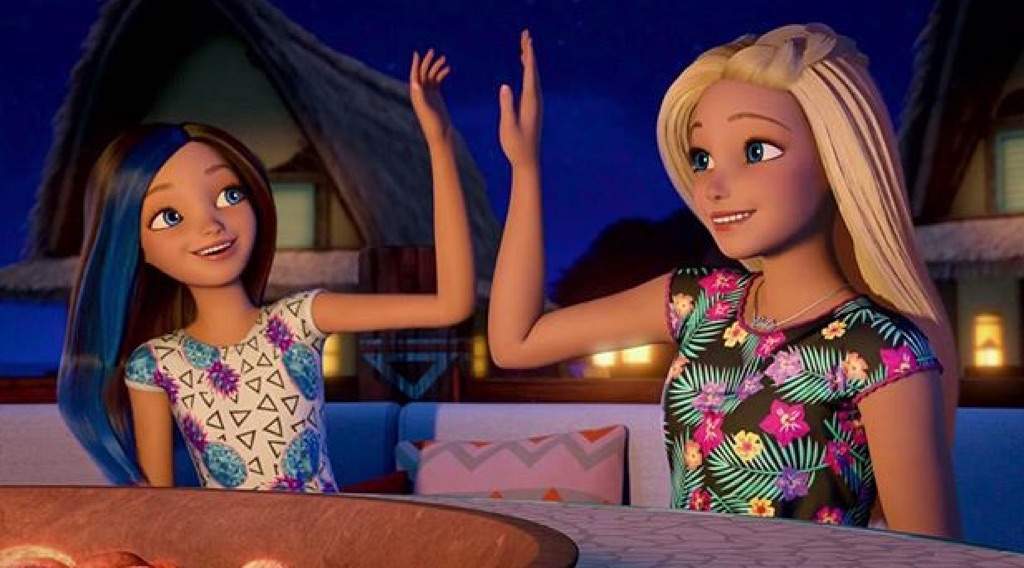 But wait! Marlo suspects something is happening and puts the girls' plans to a halt. Everyone is distraught until Isla discovers a cave underneath the marine reserve, which leads out to the ocean. Using Isla's magical necklace, Barbie is able to lead Isla through the network of caves and the dolphins are released back into the wild.
Unfortunately, Marlo and Hugo are chasing the dolphins with the helicopter! Barbie and Isla are forced to quickly say goodbye before Isla and the dolphins jump into the sea to swim far, far away.
Time passes and even though Marlo's research centre has been shut down, Barbie is upset that she wasn't able to spend more time with her newfound sister of the sea. She calls Isla with the magical necklace, and lo and behold, Isla appears with the Gemstone dolphins!
Okay, so now we've got the plot all sorted out, let's talk about the actual film -it's good. I really enjoyed it, and will probably watch it again, which is more than I can say for certain other films. *cough* barbieinthepinkshoes *cough*
Despite being shorter than other films, because technically it is a special and not a film, Barbie: Dolphin Magic is action-packed! The only moment where I thought "well, this is a waste of time" was when Barbie and her sisters were singing in the cafe -I thought that was unnecessary. And a bit weird, too. The song was also horrible, and I didn't understand the analogy. "Sisters are forever, just like treasure. Treasssurreee! *repeatedly sings about treasure for the next two minutes*" Like, okay? Thanks for that impromptu song, I guess?
**important note!** I later found out what the 'Treasure' song means! I'm just going to put the quote here because it sums it up better than I could explain:
"Though we often think of treasure as wealth and gems, really the best treasure of all is the bond shared between siblings. So basically, Barbie and her sisters weren't singing about "treasure" in the sense of gold or precious stones, but rather the love they share with each other."
I really liked it how you couldn't guess what was going to happen next. Even though Marlo was obviously portrayed as a villain from the beginning, I never thought that Marlo would suspect the girls' plans and chase them with a helicopter -I just assumed the film would end after Isla told everyone she was a mermaid.
Another of my FAVOURITE points is how the puppies did not talk! I could go on forever about how much I dislike those annoying puppies, and I'm glad this was a movie with puppies without being a full-on "puppy movie." I'm also glad that Barbie did not transform into a mermaid, because honestly #BeenThereDoneThat.
I really liked the addition of the magical necklaces, although I'm surprised it was not used in merchandise to support the special. It would have been cool if they had sold "DIY Charm Mermaid Necklace Kits" or "Collect 'Em All" mermaid necklaces in different colours. Wouldn't it be cool if you had a Barbie: Dolphin Magic themed birthday party, and all the guests went home with a magic mermaid necklace from the film?
I was a bit confused why Stacie had a broken foot, as I'm not sure what it contributed to the storyline. At the end of the special, Skipper mentions she won first place in the photo blog competition. Although her photo blog was definitely mentioned throughout the film, I didn't realise it was a competition -I think it would have been better if they highlighted this more, particularly when Skipper takes a picture of Isla as a mermaid. Perhaps she could have been reluctant to delete the photo because she really, really wanted to win the competition?
Another thing that I thought could have been improved was Ken struggling to choose between believing Barbie and Marlo. It would have been cool if there was a scene where Ken was like "Barbie, Marlo's my boss! She's a marine biologist, of course she knows what she's doing! JUST LEAVE ME ALONE OKAY BARBIE!"
And then later on, we would have a big apology scene, of course. "BARBIE I'M SORRY I DOUBTED YOU PLZ FORGIVE ME." I also wish Mattel would clarify what-the-heck happened between Barbie and Ken. Did they break up? Or are we pretending they were never dating in the first place? (because nobody has forgotten that, trust me, it was only 2015 when Life in the Dreamhouse finished, remember?)*
*Although, many fans have speculated that LitD exists in another version / dimension / world / however you want to explain it. That theory can also explain how Barbie's mom had passed away in Starlight Adventure, because that was another 'world' again. (If that makes sense lol)
Overall, the film was good. So, so much better than I expected. From the trailer and music video, I was getting ready for full-on cheese, the end of good Barbie films forever and a #TerribleDisappointment with a capital 'T.' BUT NO! It was actually good, and I highly encourage you to watch it!
However, it would have been fabulous if the above plot elements had been more fleshed out, and perhaps if Isla had spoken more about herself, where she came from, or the significance of the Gemstone Dolphins and why they're important to that region. In fact, Isla didn't have much of a personality at all! The film did not mention her interests, her family or her mermaid friends back home -if she even had a home!
I also thought that it was lazy in some areas. The film reused two old songs "So Beautiful" and "Live in the Moment" from previous Barbie films and only produced one new song "Treasure" (which wasn't good to begin with). I think it would have been nice to include more instrumental music. The dolphin from the logo looks exactly the same as Zuma from Barbie in a Mermaid Tale (2010) and Barbie in a Mermaid Tale 2 (2012). The film also ended with the quote "this is our story -what's yours?" which again, is reused from several other Barbie films.
Conspiracy Theory: From what I can remember, the quote "this is our story -what's yours?" is used in all the recent films where Barbie is playing herself as the main character. Perhaps it is suggesting that Barbie, as a character, can be anything, and is a call-to-action for the audience to invent their own story with their Barbie dolls? And therefore 'create their own story?' This explains why the films are not exactly linear. *cough* Barbie literally being from space in Starlight Adventure, and oh look, her mom's dead, and oh look, she's alive again in the vlogs which were released at the same time, hmm, that's weird. *cough*
One other interesting point is that all the names in the film are literally reused from other films (excluding Marlo).
Isla = Barbie in the 12 Dancing Princesses (2006) and Barbie: Princess Charm School (2011) (seriously -why has this name been repeated so many times? Do they have to purchase the name in order to produce the doll?)
Hugo = Barbie as Rapunzel (2003) (there was also Hugh from Barbie: Fairytopia (2005), although I think that is more in reference to 'hue' meaning 'colour or shade,' because a big part of Fairytopia is rainbows)
Amethyst, Ruby, etc. = These are all literally names of the Guardians in Barbie Fairytopia: Magic of the Rainbow (2007) (although I suppose it's okay because they both make sense with the context of the story)
Ken, Taffy, Barbie, etc. = Well, obviously these names must be reused! Haha. Wouldn't it be weird if one of Barbie's sisters suddenly changed their name? Oh wait. They already did that. Whoops.
OKAY! So overall, this film was good. I have some gripes, but my goodness, there's no such thing as a perfect film! I'm not sure it warrants a sequel -personally, I would rather a sequel to an older, more successful franchise such as Fairytopia or Barbie in a Mermaid Tale (as long as they did it properly, of course!)
As for the next film / special, I'd like to continue with the silent puppies, and even though I like mermaids, perhaps something in a different location. After all, we've had:
Barbie Fairytopia: Mermaidia
Barbie as the Island Princess (island-based)
Barbie in a Mermaid Tale
Barbie in a Mermaid Tale 2
Barbie: The Pearl Princess
Barbie & Her Sisters in a Puppy Chase (island-based)
What do you want to see for the next Barbie film? Have you seen Barbie: Dolphin Magic and if so, did you enjoy it? What would you like to see improved?
Completely unrelated life hack: Struggling to stick to your #NewYearNewMe diet because you're craving chocolate all the time? Melt two squares of chocolate and dip in some strawberries, or any other fruit you have on hand. It makes the chocolate go much further, so you can afford to splurge on something good quality.
I'm literally eating this [strawberries and chocolate] right now, and I found a spider in my strawberries!* How funny!
*I didn't eat the spider. In case you were wondering.